In this section...
Kingswood Update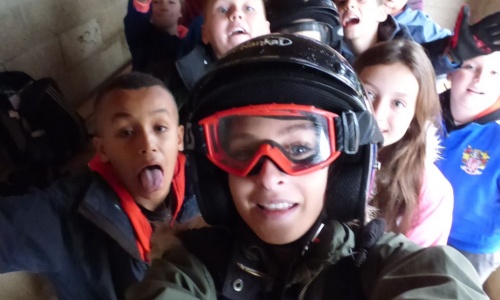 Well what a day. With the elements against us, cold and very wet with a bit of wind thrown in, both groups "manned up" and leapt into the day's first activities.
Careful driving in side by side was the order of the day, with all children in both groups managing to safely navigate the extremely wet and muddy course. After this the children challenged themselves with Jacobs ladder, with some excellent teamwork in navigating the very wet and tricky ladder. Notable performances from group M was Jamie who managed to get to the top and Kiera who managed to get to the 5th rung! Both groups then braved the elements at the front of the site to build shelters using the natural resources that were surrounding them. Some great effort from everyone, although there was some flagging when the wind picked up.
After a refreshing lunch of fish fingers, spaghetti and chips, all groups spent time out of the weather indoors. Group M spent time scaling heights in indoor climbing whilst group N lit each other up in the laser tag. The activities ended with indoor climbing for group N and some personal triumphs with most children achieving their goals and three children managing to reach the top of the wall, whilst group M enjoyed archery and were introduced to the tradition of shooting for cutlery. The evening entertainment saw the class dance the night away with into the spotlight.