In this section...
Reception's trip to Aldenham Country Park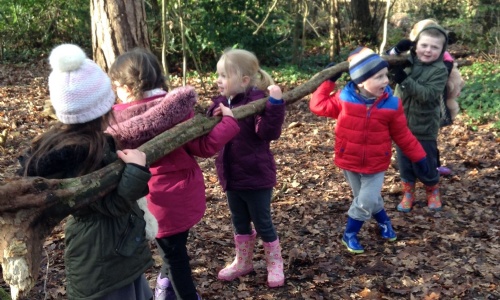 Did you know that Winnie the Pooh's birthday is on the 18th January?
We did, so off we went to Aldenham Country Park on a red double decker bus to visit 100 Aker Wood to wish him a happy birthday.
While we were there, we found lots of other things to add to our adventure. We visited a farm where the larger animals were very entertaining. The cows were mooing very loudly and the goats were eager to say hello.
Thank goodness we took our welly boots as the woods were very muddy. Inside the woods, there were 26 bears (don't worry, they were only soft toy bears) which the children had to hunt high and low for and bring back to their owners. Then the children had to work in two teams to build a den as shelter for the bears. There was some amazing team work when collecting the large sticks together to ensure everyone was safe.
After lunch, we went off on the search of 100 Aker Wood. The children were very excited to finally find Pooh bear's house. There was also a lovely surprise of other houses as well. The children also had the chance to play Pooh Sticks over the bridge - even though someone ended up in the water and it wasn't one of the children! Oops!!
We left the park a little colder than we arrived but it was without a doubt, that everyone had had a fantastic adventure.