In this section...
Busy start to Spring Term for Year 4.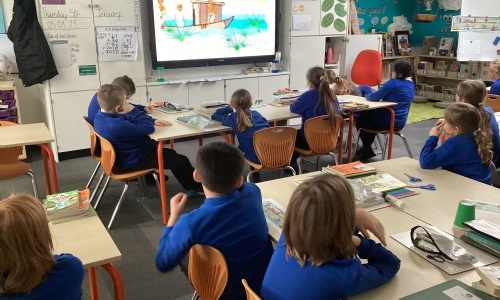 Year 4 have settled into being back at school after the holidays successfully and are enjoying the start to our new learning topics for this half term.
In History, we began our new topic on the Ancient Egyptians by creating our own timelines to visually represent all of the significant civilisations, events and people that we could recall from our prior learning then built on this by including some important dates related to Ancient Egypt. We found out that hieroglyphics were used for communication and writing in Ancient Egypt and used these to create our every own cartouche designs depicting our names. We have also been finding out about how the pyramids were built in Ancient Egypt and are very much looking forward to our Ancient Egyptians workshop later this half term!
In Science we have relished the opportunity to experiment with sound and have enjoyed carrying out investigations into pitch, volume, continuity and repetition to create sounds with different combinations of characteristics. This topic links well with our Music learning for this half term which focuses on songs with positive messages and without a doubt, we will be using our voices to create some impressive sounds with our singing and even some rapping this half term.
In Maths we have relished new challenges related to fractions and developing our fluency in identifying and solving problems involving mixed number and improper fractions. So far we have explore, identified and converted mixed and improper fractions and this will undoubtedly stand us in good stead for our problem-solving sessions. In Literacy we have been highly engaged in our reading and writing linked to the tale of Aladdin and fantasy stories and we will be moving on to planning and writing our own fantastic versions of these tales.
Please enter some content for your blog post here.