In this section...
Trip to West Stow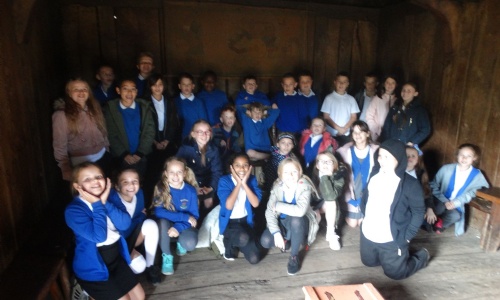 Read on to find out what we learnt on our day learning outside the classroom.
Year 5 had an amazing day out visiting the Anglo-Saxon village at West Stow. We began our day exploring the different houses; discussing who may have lived in each and what the different buildings would have been used for. We looked at the different ways houses may have been built and learnt how archaeologists gather information about times in the past. The children enjoyed hunting for the runes on the outside of each building and trying out the different 'beds'. Once the war horn sounds we gathered for a short meeting in the Mead Hall and imagined we were in Anglo- Saxon times with Grendel approaching (the villain from the Beowulf story)!
In the afternoon we looked through the museum and learnt about the different artefacts found in West stow and what their uses might have been. The children had great fun trying on Anglo-Saxon clothing and even a war helmet. They then became archaeologist's themselves and came up with different questions to ask of the artefact they had been given to help work out its purpose.
All in all, the children had a great day and came back to school more enthused than ever to learn about this time period.