In this section...
Kit Davies- Dreamcatcher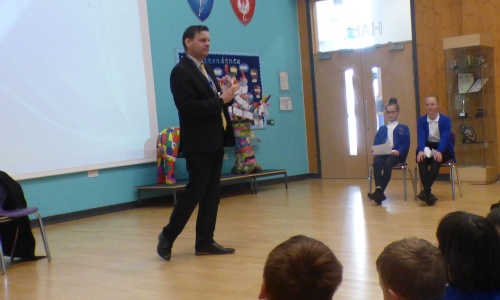 Chief Executive of the Hart School Learning group, Kit Davies, delivered our latest Dreamcatcher assembly. He talked to the children about his role as a Chief Executive and how this meant him doing a wide variety of jobs including managing budgets, talking about finances, meeting MP's, attending formal dinners and visiting schools. He mentioned that his main aim within the Hart Learning group was to make peoples dreams happen through providing them with a great education from Nursery right through to College.
Having grown up in London he initially dreamed of becoming a Tennis player or Coach and then a Lawyer. Eventually he trained to be a teacher. Once he completed University, he then travelled abroad working in a variety of countries including Mexico, Japan and Spain where he taught English. When asked about a typical working day, he mentioned that no day was the same as he sometimes had boring days when he would be talking about Budgets or finance, or more interesting days where he would be out meeting people. Kit left the children with his nugget of wisdom , which was to always be positive and think positively especially when you find a difficult situation or something goes wrong.