In this section...
Dreamcatcher assembly- Martyn Burrows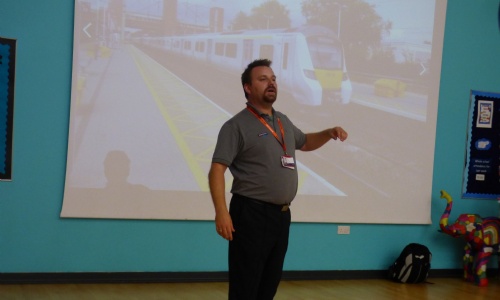 On Thursday 12th September, we had our first Dream Catcher assembly of the year. We were joined by Martyn Burrows who is a trainee train driver for Govia Great Northern Railway.
Martyn told us that right from the age of 5, he dreamed of being a bus driver. 15 years later he made that dream come true by learning to drive buses. Martyn told us that although he didn't pass his test first time, with perseverance and determination, he finally succeeded. Starting off with small mini-buses, he trained and trained and eventually was driving double decker buses and large coaches around the country.
Some years later, Martyn decided that bus driving was perhaps not for him and he set himself a goal to become a train driver. He spent 7 years inspecting tickets and speaking to customers on trains before he took the steps to start his training. Martyn is currently training with an instructor and told us that it takes hours and hours of training to pass and become a fully-fledged driver.
Martyn's nugget of wisdom for us all was to never give up on your dream. If you want to do something - you can do it. Even if you fail, try and try again and you will succeed.