In this section...
Dream Catcher 28.11.19 - Owen Stephen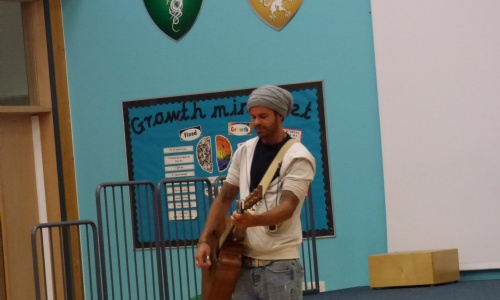 On Thursday 28th November, we had a very talented man called Owen came in for a dream catcher assembly.
Owen is a musician and has been all around the world. Just recently, he came back from a cruise in Australia singing for all the people on board. He was due to go to Denmark the following weekend and then Los Angeles before Christmas for another cruise. He is very, very busy!
Owen told us that he always wanted to be a football reporter/ analyst when he was younger as he enjoyed football but didn't feel he was that good at playing it. When he was older, in his late teens,he taught himself to play guitar by watching You Tube videos. Because he loved playing so much, he played all of the time and quickly became very good at it.
Over the years, he has played at many gigs locally and he has visited over 60 countries. He has also been a music teacher. Owen sang us a song called Shot Gun which everybody enjoyed singing along to.
Owen told us that we should pursue what we like doing as in his case, his hobby has turned into his job which he absolutely loves doing every single day. We are all hoping that Owen comes back and visits us again soon as we really enjoyed his assembly!