In this section...
Dream Catcher 16th January Nick Gill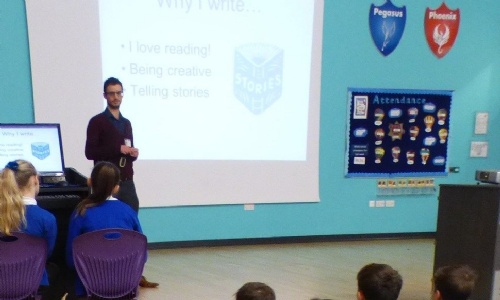 On Thursday 16th January 2020, we were visited by Nick Gill who is an editor from the Comet newspaper.
Nick was born at the Lister hospital and was raised in Stevenage. He went to school at Long Meadow school where he liked coming up with stories to tell and loved reading books. Nick's favourite book growing up was 'Holes' by Lewis Sachar. When he was younger, he actually dreamed of being a journalist and after going to university and going to a special journalist school, he made his dreams come true.
Nick started off as a reporter about 10 years ago where he continued working for about 3-4 years. He then became a chief reporter for around 3 years and climbed the ranks to become an editor. Nick's job is to travel around Stevenage to look for stories to tell in the newspapers and on the Comet's website. Working for the newspaper has given Nick many opportunities such as meeting the queen, visiting different countries and seeing the Olympic torch.
Nick's nugget of wisdom for us is 'to always try and find things that you like to do - it will help you succeed.'
By Jack & Jasmine Y5