In this section...
Dream catcher Chris Bull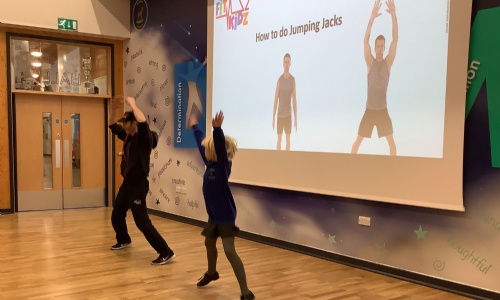 Today, we had an inspiring dreamcatcher from Chris Bull, who was originally from Kent until he was 17 then decided to move. He went to an all-boys school and dreamt of being a generalist or a story writer. He came in and spoke to us about how to keep healthy and stay fit. He talked to us about his business (which is called Fit Kids). In his business he goes to schools, and he brings equipment to teach children how to use them properly. During his time at schools, he teaches children how to stay fit! He has been to 22 primary schools in Stevenage and only has 7 left to go to. When Chris came to Roebuck Academy, he showed us exercises we can do without any equipment (exercises like jumping jacks, star jumps and high knees). When he was demonstrating these workouts, he chose students to come up and have a go. The experience he needed to get into the fitness business was an intense 5-week course.
Before he left, he gave all the children a golden nugget to step forward in life, "Enjoy life, as you have only one chance to live."
By Lily Jeanes and Ellie Lang.
Please enter some content for your news story here.