In this section...
Celebrating Music at Roebuck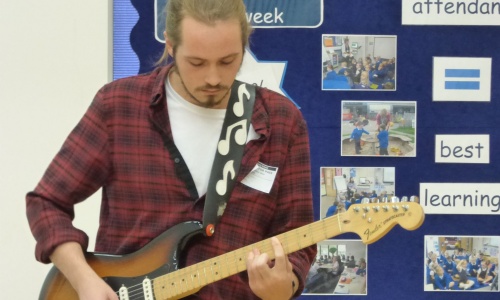 The pupils and staff have had an amazing day learning about a range of different music styles. Many thanks to all our visitors including Miss Prosser who sang to the children in assembly and performed for KS1. Thank you to Damien and Ross for performing the trumpet and electric guitar to the whole school. We were also delighted that staff and pupils from Thomas Alleynes and Barnwell could attend and lead workshops in singing and mixing music using computer technology. We now have many budding young DJs!
This exciting day starts Roebuck on their journey to achieve Artsmark status. Our aspirations are high and we are aiming for Platinum (the top level awarded). We also hope to be seen as a Flagship school following our success as an Artsmark Champion school. We aim to improve music provision through the school and are working on continuing to develop strong partnerships with our local secondary schools. Many thanks for the time and help given from everyone involved.