In this section...
Parent View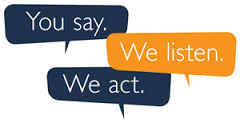 We hugely value and appreciate parents' views. Together, we want Roebuck to be the very best school for our children. We appreciate hearing about the things that we are doing well and we learn from hearing about the things that can be made better. To have your say, please complete Ofsted's Parent View questionnaire below:
At least once every year, the Governing Body will hold a parent questionnaire to also seek your views. This information is analysed and shared with the Senior Leadership Team so that achievements can be celebrated and any concerns can be improved. Parents can complete this short survey on paper or online below:
Link to appear in summer 2019
Each half-term we hold a Parent Forum meeting. This is an informal meeting where we discuss what we are doing well and what can be further improved. Each Parent Forum has a particular focus depending on current issues or other feedback that we have received. Each class has nominated a Parent Forum Representative for the academic year. They put forward helpful information about current issues as well as communicating useful information to all parents. If you need them to 'tackle a topic' please let them know and I'm certain they will put this forward in the next meeting. All dates for Parent Forums are communicated via our school newsletter. Class representatives are advertised of your child's classroom door.