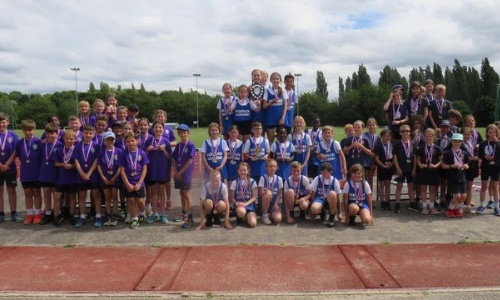 Athletics success!
Published 21/06/22, by Andy Mari
On Thursday 9th June 2022, Roebuck Academy students from Year 4,5 and 6 attending the much-anticipated Athletics Competition at Ridlins Athletics Track. Roebuck was amongst 16 other schools across the partnership, competing in both track and field events throughout the entire day. The day started with a large parade around the track, where schools got the opportunity to represent their commonwealth country which SSFT had given them at the start of the year, with Roebuck's being Scotland. Following the parade and warmup, the busy day began with children from all year groups heading off in different directions to take part in either their field, or track event. All field events and the long-distance events were straight finals, with all other track events ran in heats to determine the finalists for the afternoon session. After a morning of long jumps, high jumps, cricket ball throws, javelins, sprint races, long distance races and relay races the finalists had been revealed for the afternoon session. Roebuck Academy making it to the final of all races bar one, so another busy afternoon ahead! On completion of all the final races and following the impressive display in the teacher relay race from Mr Moran and Mr Steedman who picked up the Silver Medals, it was time to announce the individual results, then the overall results.
Year 4 Boys Long Jump - Chayden 7th
Year 4 Girls Long Jump - Sophie 1st
Year 4 Boys Javelin - Cameron 4th
Year 4 Girls Javelin - Hailie 6th
Year 4 Boys 300M - Aiden 4th
Year 4 Girls 300M - Phoebe 1st
Year 4 Mixed 50m Relay - Aiden, Cameron, Chayden, Sophie, Phoebe, Hailie, Sienna 3rd
Year 5/6 Boys Long Jump - Nathan 1st
Year 5/6 Girls Long Jump - Yasmin 2nd
Year 5/6 Boys Javelin - Harry 8th
Year 5/6 Girls Javelin - Kelsey 10th
Year 5/6 Boys Cricket Ball Throw - Orryn 5th
Year 5/6 Girls Cricket Ball Throw - Maisie 9th
Year 5/6 Boys 600M - Lauren 5th
Year 5/6 Girls 600M - Ben 5th
Year 5/6 Boys 100M - Lennon 1st
Year 5/6 Girls 100M - Amber 3rd in Heats
Year 5/6 Mixed 4x100 Relay - Orryn, Harry, Eriola, Maisie 5th
Year 5/6 Boys 4x100 Relay - Kai, Lennon, Ben, Nathan 1st
Year 5/6 Girls 4x100 Relay - Amber, Kelsey, Yasmin, Lauren 1st
Year 4 Overall - 5th
Year 5/6 Overall - 1st
Whole School Year 4/5/6 Combined - 1st
The year 4's narrowly missed out on medals after 3 teams came joint 2nd, with Roebuck behind by only 1 point!
The year 5/6's came 1st overall in their category, and by the finest of margins Roebuck Academy won the whole event for year 4/5/6 combined by only 1 point from 2nd place.
A monumental achievement for Roebuck Academy - Huge congratulations to all the children involved. That 1-point difference between 1st and 2nd was down their hard work and determination throughout the whole day!
Read More