In this section...
Indoor Athletics Success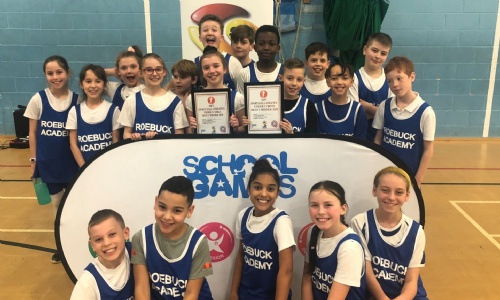 On thursday 13th February 2 team, one boys team and one girls team, took part in indoor athletics. We were highly successful with both teams coming out on top in their heats. Well done Everyone.
On Thursday 13th February we took both a boys team and girls team made up of year 5 and 6 students to Barnwell leisure centre. They were going to compete against 7 other school in one of the 3 heats taking place over 2 days. The children competed on a number of different events.
On the track there was obstacle races, sprint races and long distance races. And in the field there was a number of throwing and jumping events. The children could take part in 2 field activities and 2 races on the track.
Both teams were highly successful on the track with the boys winning 7 out of the 8 races that took place. The girls also competed very well throughout, winning 5 of their 8 races. An excellent effort from all. Both teams also did an excellent job of cheering on their teammates the "Lets go Roebuck" chants could be heard ringing around the sports hall whilst our runners were competing which i'm sure gave them the extra boost they needed.
The field events were where we truly excelled, you could see all the hard work they they had put in beforehand. We watched on with great pride as the students attacked the events head on and gave it their all putting up some incredible scores in the process.
Sitting down at the end awaiting the results, the teams had a very positive feeling that they had a chance of winning. The excitement grew as the boys teams results were read out first. As teams were being announced it came down to the final 2. Roebuck and Broom Barns. When it was announced that Roebuck had won both the girls and boys jumped up and shouted in celebration, a well deserved victory.
This made the girls a little more nervous finding out their results. Again the excitement was building as the places were announced. It was us and Broom Barns left again and we managed to come out on top. Showing the great teamwork and encouragement we had seen throughout the day as both teams cheered for each other again. It was a brilliant moment which was well deserved after all the hard work they had put in.
Now we just need to wait to find out where we finished overall.
Overall a fantastic day out made even better by the results. Well done to all involved!