In this section...
Year 6 litter pick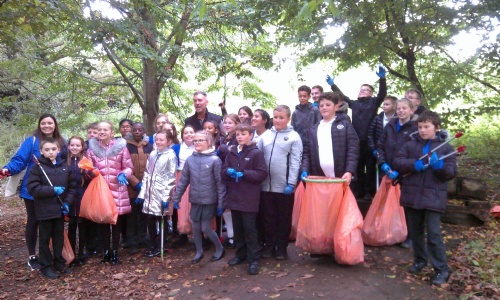 On Monday 4th October, both Year 6 classes walked to Roebuck woods to offer a helping hand by litter picking. When we arrived, we were greeted by a man named Mark who spoke with us all regarding the importance of being safe and how to be safe while picking up litter throughout the woods, ensuring that any glass or sharp objects we found we would tell an adult. In pairs, we were given a litter grabber, gloves and an orange bag to collect the litter that has been scattered throughout the woods. Walking throughout different areas of the woods, we found various items of rubbish that had been thrown into the woods, these consisted of cans, plastic bags, bottles and many more items. The teachers that stayed with us while we did litter picking, constantly checked we were being safe and made sure that we stayed within our areas. While both Year 6 classes had lots of fun participating in this activity, we were really shocked by the amount of rubbish that had just been dumped throughout the woods. This has an impact on our environment, leading to injuries in our wildlife, costly clean ups to our community, destroying plants through soil and water pollution and making our green areas unpleasant. Overall, we all thoroughly enjoyed it and felt proud that we helped the community.
At Roebuck we are Community Conscious!
Written by Yasmin Bell, Head Girl
Please enter some content for your blog post here.