In this section...
Recent news in Year 6?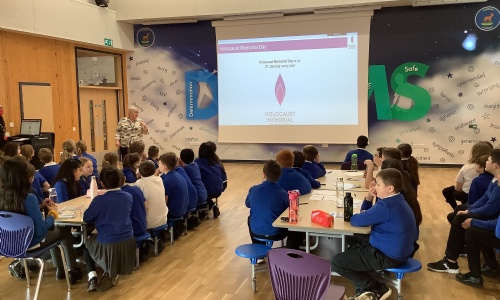 Recently, in Year 6, we have been doing a test to show how fit your body is called the beep test. The test consists of a 20-meter run, back and forth. The time between the beeps decreases meaning you must work harder to keep up with the beeps. You must run at the correct pace to complete the activity. In science, we have been making blood soup which consists of the essential ingredients of blood. Firstly, Plasma ,which is 55% of the blood's formula, is classed as orange juice in this soup. White blood cells that are 4% of the blood's formula, are seen as mini marshmallows in this demonstration. Next are red blood cells with 41%, and they carry oxygen. These were Cheerios. Finally, platelets were added (we used rice) There's your blood soup!
Year 6's last activity recently has been a Holocaust Workshop. Year 6 have learnt that the Holocaust was when Jewish followers were discriminated against and looked down on by some of the Germans. Our focus was on a German Jewish girl's story, Renie. Her family consisted of a sister of Renie (whose story and name is unknown) and a brother of Renie who was unfortunately sent to a concentration camp (a horrid prison for the Jews) but was luckily set free. We were fortunate enough to be joined by two teachers from Thomas Alleyne's Secondary school for this workshop.
Please enter some content for your blog post here.