In this section...
Latest news in Year 6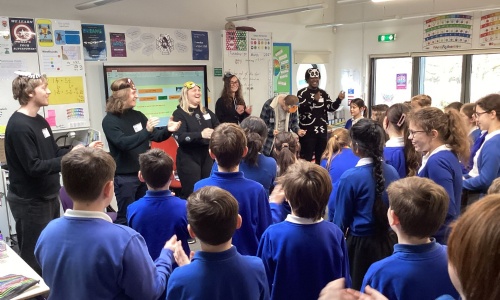 Year 6 have been fully immersed in their learning over the last couple of weeks. In particular, we have had a very busy few weeks in Science. We've dissected hearts in to understand the structure of the chambers in closer detail. We've made blood soup using Cheerios and juice to show how it is made up of different parts. Year 5 and Six we're invited to take part in a zoom call all about birds of prey where we learnt about the food they eat, their hearing, an their eyesight along with other fascinating facts. Finally, as part of a whole school investigation, we conducted tests to see whether a more expensive biscuit was a better dunker to a cheaper one. Another key focus from this week was our music performance as a whole Key Stage. We learnt an original songs written by University students and had the chance to perform these for the rest of the Key Stage. Most recently, we have been analysing a poem that was used for the 2014 Winter Olympics campaign titled 'The Dreadful Menace'. We have enjoyed looking at the use of personification and creating our own ideas to construct a collaborative group poem all about winter.
Please enter some content for your blog post here.