In this section...
Magic Beans!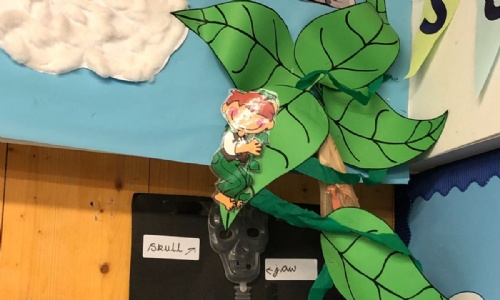 Our topic this term is Fact or Fiction. We are learning about traditional/fairy tales and how they are different to non-fiction.
We started the term with some magic. Mrs Solomon found some beans whilst tidying up and gave them back to Mrs Prosser. Mrs Prosser thought they were rubbish and threw them across the room as she didn't want them cluttering her desk. The next day, much to the amazement of the children, a beanstalk had grown!
Were they truly magic beans?
Using the beanstalk as a stimulus the children helped to create a class story map of Jack and the beanstalk. They used their imaginations to think about what Jack could see, hear, smell and touch when he visited the castle.
This week we are looking at a non-fiction text about castles. We hope to learn about their features and compare them to the homes we live in today.