In this section...
Queens Jubilee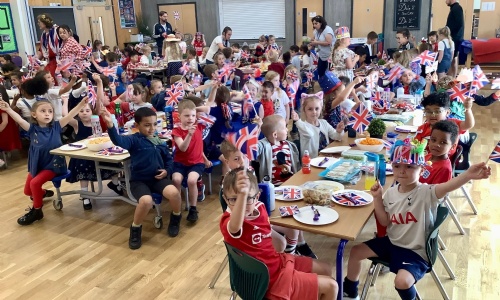 The children in reception have been finding out facts about the Queen, in preparation for the jubilee. Each day the children found out facts about a period in the Queen's life. We used these facts as a stimulus for our writing and by the end of the week they made their very own fact file about the Queen. They found out lots of different facts from when she was born in 1922, when she got married to Phillip, when she became queen, right up to 2022 for her Platinum Jubilee.
The children made different crafts each day for the jubilee celebration. They created paper chains, made their own Union Jack flags and decorated biscuits. We practised two different songs to sing at our Jubilee Street Party which were: Street Party and Trooping the Colour which the children enjoyed creating actions for the songs. We also practised a fitness dance which looked at dances from the 1950s to the 2000's. On Friday, we celebrated the Jubilee with our own street party enjoying food, singing, dancing and competitions. At Roebuck Academy we are Historians.
Please enter some content for your blog post here.