In this section...
The Marvellous, Squishy Itty Bitty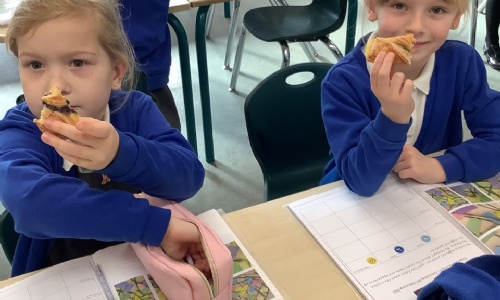 Year 2 have had a delicious, scrumptious and marvellous start to this half-term! We have started our new literacy book, The Marvellous, Squishy Itty Bitty and have been following Eddie on her journey round the village to find her mum a gift. One of her first stops is the local bakery so we decided the best way to immerse ourselves in the experience was to eat lots of crumbly, flaky crispy pastries ourselves!
We have begun our new topic 'Journeys' and have begun learning how George Stevenson was considered the 'father of the railways' with his invention of the Steam Engine. This half-term we will be creating a timeline of his career to better understand how his invention affected how we travel today.
Also, this week we were lucky to receive a visit from a real artist. She taught us a printing technique using polystyrene to create prints of the Great Fire of London -they looked sensational!
Please enter some content for your blog post here.