In this section...
Angry Angles and Smashing Saxons Fantastic Finish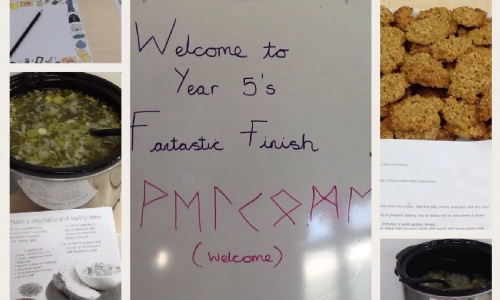 Our Fantastic Finish
Our Year 5 fantastic finish was excellent! It was Anglo-Saxon themed and we had a blast!
In the main classroom, we created our own amulets from clay. These amulets were used as good luck charms in Anglo-Saxon times. We had already designed our own and then used a variety of tools to carve and shape the clay to create them. We had an excellent time!
During the week, we were busying trying out Anglo-Saxon recipes to share with our adults. We made honey oat cakes and a barley and vegetable stew. Surprisingly, everyone hated the stew! But the honey oat-cakes were the prize winner with the tastes of the children.
There were a number of other stations to visit with our parents. We had the opportunity to learn how to play Anglo-Saxon games, solve riddles, write in runes and find out about punishments used during the period.
We had a wonderful time and enjoyed sharing our learning with our adults.