In this section...
Making felt in Juniper class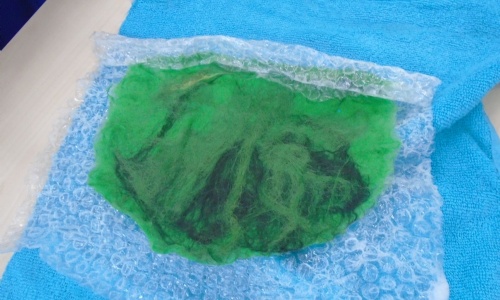 Juniper class have had a fantastic start to Year 5. They have been busy making their own felt using merino wool. The wool is made up of tiny fibres that have tiny hooks which help to join the fibres together to form felt.
Firstly, they pinched the wool and pulled tiny strands away. This was then used to create a layer on a sheet of bubble wrap. When they could not see the bubble wrap anymore, they used a contrasting colour and put some strands of this wool on top. Once they were happy with their composition, the hard work began. The wool strands had to soaked in soapy water and then rolled up tightly in a sheet of bubble wrap and a towel. This had to be rolled backwards and forwards on the table for ten seconds but repeated at least ten times in different directions. The children's arms were aching by the end of this! However, they were amazed and proud of their finished felt.
Our next stage, is to create a rainforest scene based on the book we have focused on this week which is called Window by Jeannie Baker.
Please enter some content for your blog post here.