In this section...
Sporting Success!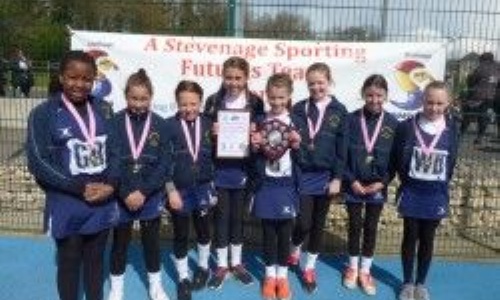 A huge well done to our amazing netballers who have finished the season winning lots of silverware! Our school A team finished as Runners-Up in Tuesdays Stevenage Schools Netball tournament. The team topped their group, scoring 36 goals in five games and only conceding 6. Despite losing in the final to Knebworth School, it has been an incredibly successful season. The A team won the mixed schools league with a 100% winning record and you can see the picture of the girls with their medals and trophy in this post. Well done to all eight girls – we are hugely proud of you.
Well done to our school B team as well who finished third in this year's B team league, only losing twice all season. The B team also performed exceptionally well at the tournament on Tuesday. They finished third in their group, winning one game, drawing two and only losing one. They then played in a play-off for fifth place overall and beat Woolenwick School 2-0. We are so proud of all games and a huge thank you to Miss Short who has led the B team this year.
Both teams have played against large schools in netball this year, making the season even more challenging than ever before. Every girl has played with skill, passion, determination, pride and with a perfect sporting attitude – please do look at the photos in our gallery from Tuesday's tournament.