In this section...
Dreamcatcher with Lee Wilkinson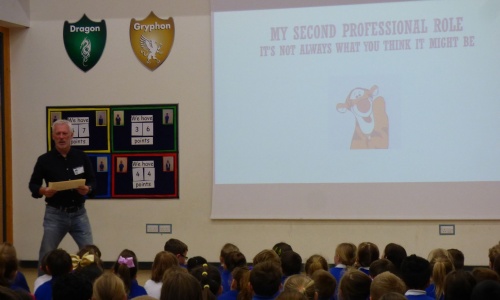 The latest Dreamcatcher at Roebuck Academy saw actor and author Lee Wilkinson inspire the children with tales of how his career has transformed from a Physical Education Teacher, to actor to author. As well as telling us about how he left school aged 15 and worked in a circus he shared how his career has developed and after a move to America he became and actor in stage plays. Having returned to the country after 20 years in America he has been involved in working for Warner Brothers at the Harry Potter Studios and more recently has turned his hand to being an author of children's books. He left the children with some sound advice for their futures by stating that they shouldn't listen to people who say they can't be what they want to be . Instead they need to be brave and dare to do what they want to do!
Please enter some content for your news story here.