In this section...
Dream Catcher 17.10.19 Tracy Collings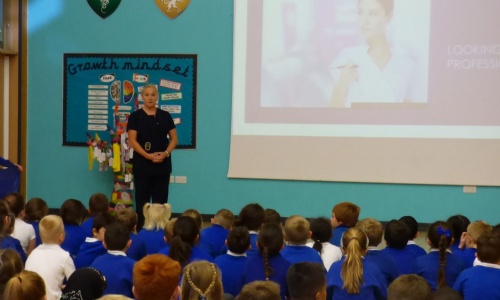 On Thursday 17th October we met Tracy Collings.
Tracey's job is a Beauty and Holistic Therapy Lecturer at North Herts College. She teaches students how to give people massages, facials and do make up. She uses hot stones to give people hot stone massages too. Tracy told us about the importance of looking professional in her job which means you are not allowed to wear earrings, watches or nail polish. Her job can involve long hours on her feet and giving massages can be hard work!
She is from London but moved to Stevenage later in life. She works in Hitchin. She has been doing her job for over 20 years and started her beauty career as a therapist in a spa. Tracy was then given the opportunity to train to be a teacher.
We also learnt that Tracy loves horses and owns some of her own. She enjoys riding them and has even learnt to do equestrian massage!
Tracy's nugget of wisdom for us was to find something you enjoy doing and believe in yourself and your abilities.