In this section...
Tag Rugby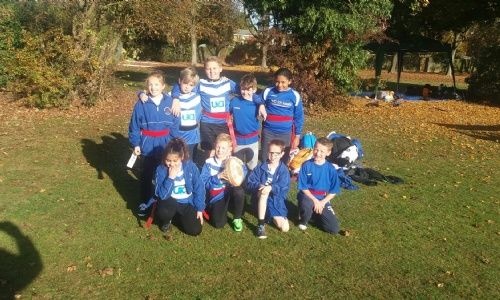 Roebuck took part in the annual Stevenage Rugby festival hosted by Stevenage Sporting futures and Stevenage Rugby club at King George V playing fields. With a young and inexperienced squad competing against the best that Stevenage Primary schools could muster. Playing against larger schools, the team showed great spirit and determination and never gave up in keenly fought games, Despite losing four and winning only one of our pool matches, we were placed fourth in the league due to our superior try scoring record having consistently scored over 7 tries a game. Three of the games were only lost by one try and notable perfomances included a very close 9-7 loss to the eventual finalists St Vincent de Paul in which the lead changed hand on numerous occasions. Having then moved forward to the frendlies pool, Roebuck seemed to get rid of their inhibitions and managed to win two and draw their last three games scoring a total of 49 tries in the process.
The whole team contributed to some great running rugby and we managed to just be pipped at the post for the fair play award by Round Diamond. A huge well done to the team of: Archie B, Logan A, Amelie B, Eloise B, Zohul H, Freddie G, Harrison M, Max A and Harry C
No news stories have been added to this category yet.